When I first thought this title, it was because it was exactly nine months since my niece's early Christmas party where I found out about the Warrior Dash and decided to get my ass in gear and get fit.
Last night, that same niece had her first child, a daughter. My great-niece. She's gorgeous. But it got me thinking, it's nine months later. Barbie may think "math is hard," but I can put two and two together! Mistletoe and Pinnacle Whipped Cream Vodka is a recipe for babies!
All teasing aside, that night changed my life. I've lost 32 pounds since then, and met my original weight loss goal in June, just two days before the Warrior Dash, then surpassed it. I surpassed my fitness goals, too, since all I wanted to do was be able to run a 5K, and I can do at least 10K now. In theory. The 10K I plan to run has been cancelled and postponed twice now! I'm pretty sure it's jinxed.
Along the way, another milestone was buying a new bikini. This was a very big deal for me, because it was the first time I didn't wait until end of summer clearance sales. Granted, it was already 50% off at Kohls, plus I had a coupon, so it's not like it was FULL price, but still, it's a rarity for me to not buy the slim pickin's left over at the end of season.
Since buying that swimsuit, I lost another 9 pounds. I'm glad it was a string bikini, because I've had to readjust the ties on the sides of the bottoms. I maintained my weight through August, but recently decided on a new goal of 126# (or 9 stone, since I like the number 9) for my Halloween party in mid-October. Priorities. I has them. And my priority is to wear a costume that's not meant to camouflage my trouble zones. I don't want any damn trouble zones!
Five weeks and two pounds to go. About a half pound a week. Yep. I can do this!
Basic stats for those who give a damn: 5'5 and 39 years old. And now, to the photos…
A birthday party last November, and at my niece's baby shower last weekend. Yay for having the proper number of chins again!
Last summer before I binged on Halloween candy and gained another 8 pounds or so, and hamming it up last weekend.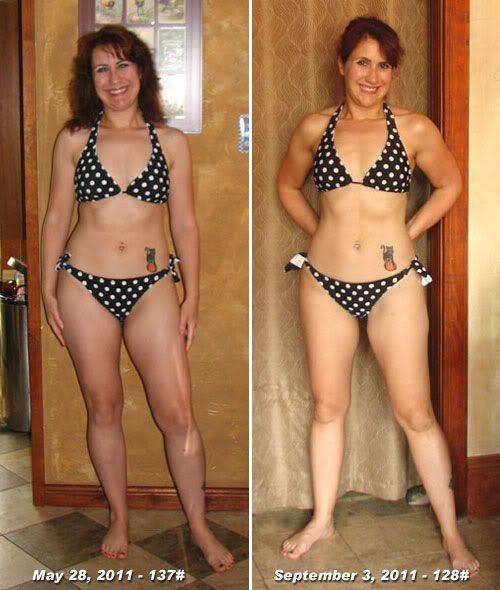 Not as dramatic of a change, but 9# lost since I got the swimsuit in May to now. My "natural waistline" is a few inches lower!
My bum has gotten smaller…. little more streamlined in the thighs.
Flatter in the belly, smaller in the waist. And not to brag (oh, who am I kidding? I'm bragging!) but these were taken AFTER gorging myself on buffet foods and tons of goodies – cake, cookies, brownies, etc. – at the baby shower. But it was BEFORE the booze-and-munchies fueled party that caused me to temporarily gain 6.5 pounds overnight.
I was really amazed I not only got back down to my last Saturday morning weight in a week, but also lost another half pound on top of it. After a bacon, egg and hash brown brunch yesterday, and a trip to my favorite Mexican restaurant last night, I'm back up a few pounds. Normal fluctuation. Nothing to worry about.
To answer the inevitable "how'd you do it?" questions…
I try to run at least 3 miles 3 or 4 times a week. My neighborhood is hilly, so most runs include a 100 to 250 foot incline. I started with the Couch to 5k Plan, and moved on from there.
In theory, I like to go to the gym twice a week, where I spend a half hour doing a round of all the weight machines and some hanging reverse crunches in the roman chair, then another hour doing cardio … maybe a half hour on a bike, half hour on a treadmill or elliptical or arc trainer. It takes me a good half hour from when I leave my house to when I hit the gym floor, so I want to make the most of my time there. I've been slacking the past week, though, because I live in Northeast PA and while my home wasn't affected by floods, both the area Planet Fitnesses were in evacuation zones.
And I do EA Active Sports 2 on the Playstation. It's not a game. It's pretty much what any exercise DVD would have you do, but interactive and customizable. Cardio, Weights, Calisthenics, maybe a touch of Plyometrics. I mostly do custom or "trainer generated" workouts on that now that I've finished their 3 week and 9 week challenges.
Food wise, first, I have to explain about how My Fitness Pal works. That's the site I use to track my calories consumed and burned. They give you a set number of calories per day by how much you want to lose. That number is based on doing NO exercise at all, so if you stick with the plan, you don't need to exercise to lose weight. When you do exercise, they add the amount you burned to your food goal for the day. So if you're supposed to eat 1200 calories, but burn 300 calories, you'd eat 1500, otherwise, you're body would be trying to run on a net calorie consumption of only 900 calories, which is a bit low. It's more of that math that Barbie hates so much. A little trial and error is best to find what works best for you. Less calories doesn't always mean more weight loss. I lost more and felt better at 1400-1500 calories than I did at 1200.
I eat quite a bit. Very likely more than I did before I started losing weight, since I was a lazy lump then. Since hitting my first goal in June, I aimed for 1500 calories, plus exercise calories, so typically around 1800-2000, Monday through Friday, then I ate what I wanted on weekends, without logging my food at all. During August when I maintained, I aimed for 1600+ exercise calories. Now that I want to lose a little more, I'm back to 1500+. Nothing is off limits. I have half a rising crust DiGiorno about once a week. I love bread and pasta, and typically have a bagel for breakfast… I ain't afraid of no carbs! I don't pay attention to them or fat. I only try to stay a little under my calories and sodium (but sometimes fail miserably), and go over on my protein and fiber.
Really, it's not about extreme lifestyle changes. Just moderation. I don't plow through an entire bag of Butterfingers in 48 hours. In fact, most of the time, I look at the calorie count and decide, "It's not worth it." I'd rather have a 130 calorie Fiber Plus bar, which is filling AND delicious, than a 200 calorie candy bar that is just delicious. Or better yet, a cup of grapes or strawberries.
Most of the time.
Sometimes, the chocolate wins. That's okay. Let it win once in a while. You'll still win in the end.