What's your goal weight? How many pounds to you want to lose? What do you weigh now? Typical questions for anyone wanting to shape up. But you know what my goal is? To not give a damn what the scale says. And here's why…
There are only two people who need to know how much you weigh. You. And your doctor. And as long as you're not severely under or over weight, you doctor doesn't really much care what that number is, but for prescribing medication, a ballpark figure of your total body mass can be important. No one else sees your weight. You don't walk around with it tattooed on your forehead or printed across your ass. I hope. Because that would be kind of weird. No. Very weird.
The scale is not only weighing how much body fat you have, but also your bones, muscle, organs, any fluid your body might be retaining for whatever reason, any food your body has digested and not expelled yet. Are you really going to be upset at the number on the scale when part of that is last night's dinner sitting in your colon?! Yeah, go ahead and beat yourself up because you need to take a good shit. That's a healthy mentality.
All kinds of little things like hormones, exercise, amount you've been sweating, sodium in your diet, amount of water you've been drinking, the time of day, and even where you have your scale placed, can make that number change. You didn't really lose five pounds during the act of picking up the scale and placing it on a carpet.
Ever feel sore after exercising? That soreness is inflammation. What's inflammation? Fluid retention. What's fluid retention? Water weight gain, which can hide any actual fat loss you've had if you're only going by the scale.
Some digital scales have a "memory." Often a two pound memory. If your weight is close to the weight you were the last time you got on the scale, give or take a couple pounds, it will often show the same weight. It's why you often hear people say, "My weight hasn't budged in weeks, then all of a sudden, I'm down three pounds!"
It's supposed to do this to keep people from wigging out over those normal, minor fluctuations. Instead, they wig out because the number isn't moving. It happens to my scale, and no, I'm not being paranoid. I can weigh myself first thing in the morning buck naked, then have breakfast and a drink, get dressed, weigh myself again, and the scale will say the exact same number. Unless I had helium for breakfast and I'm wearing anti-gravity clothes, that's not possible.
To make the scale "forget," I have to weigh myself holding something that weighs a couple pounds. Two full shampoo and conditioner bottles will do the trick, or a medium sized housecat, if one is available, then weigh myself again without the extra weight. Or I could be patient and not weigh myself so damn often, but that's not going to happen. And this is coming from someone who's not obsessed with the number.
To add to all the confusion and frustration, there's the concept I like to call "boy pounds." "Boy pounds" is a unit of measurement that women use when they're telling their weight to a guy or to the public, because their true weight doesn't "sound" good. It's very common in Playboy centerfolds, where women tend to weigh no more than 110 pounds, maybe up to 125 if they're super duper tall. And celebrities are notorious for using boy pounds, too. Then when us mere mortals amazingly weigh 20 pounds more than our favorite actress, we feel huge.
Men, on the other hand, use their own special, fictional unit of measurement when describing a certain body part of their own. It's not just a "bitches be crazy" phenomenon. Like Dr. House says, "Everybody lies."
Then there's the old, "But I just want to get back to the weight I was in high school!" complaint. Hey, for some… that's entirely possible. If you were skinny in high school, though, it's probably not going to happen.
Not only do different people look different at the same weight, at different times in your own life, you're going to look different. Young women typically have a much lower lean body mass than adult women, up until their late thirties or forties when we normally start losing lean mass. (Insert sad face here.)
Photo proof? Here's me at age 19, and again last fall at age 39. In 1991, I was about 110 pounds. Last fall, about 132 pounds. I'm wearing the SAME pair of jeans. (And back then, these were considered low rise.)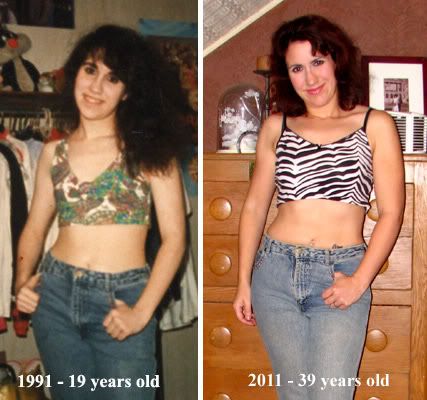 No, I'm not as skinny as I was then, nor would I want to be, but my overall size isn't that much different, especially considering I weigh more than 20 pounds more. My lean body mass is currently about 108 pounds, which means that if I wanted to weigh 110 pounds again, and not lose precious lean muscle, my body fat percentage would have to be about 2%. Or in other words… I'd be dead.
About 10 years ago, I had wicked bad problems with TMJ… a slipped disc in my frickin' jaw. I could barely eat. Seriously… I could only open my mouth about 11mm without pain! It SUCKED!!! I was around 130 or so before the problem flared, and when I couldn't bite or chew normally, I shrunk down to about 120 pounds. Since I wasn't eating right and wasn't exercising (even if I had the energy, the chronic headaches were hell), I lost muscle mass. I was happy with my body, though, because I was blissfully ignorant about muscle mass at the time, and still young enough that my ass didn't droop.
*sigh*
The youth really is wasted on the young. I have to work entirely too hard to keep my butt up where it belongs now.
Anyway, I decided to look through old photos to see if I had any full length shots from that time, and found one. So here's the Summer of 2002 vs the Summer of 2012. Ten years older, 15 pounds heavier, eating sooooooooo much more (I'm proud to report I can now open my jaw like a Pez Dispenser)… and still with very similar tastes in platform wedges.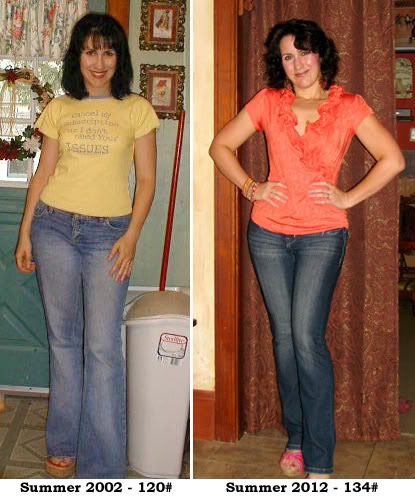 Other than not having skinny little noodle arms anymore, I can't see any part of my body that looks like I gained about 15 pounds since then. Hips? About the same. Waist? Smaller. Thighs? Smaller. Stomach? Flatter. Confidence? Higher.
Even in just the past year, the number on the scale has bounced around. I weighed less last summer, but I'm leaner now.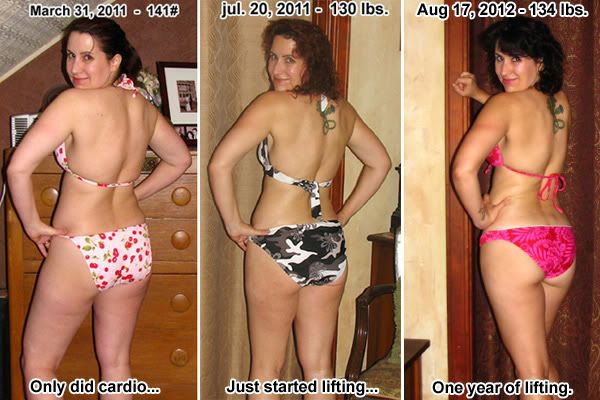 And from the front…
My actual current body weight is about halfway between the first and second pictures. My body shape is… well, without tooting my own horn, not.
Hmmm… I forgot to count. That's not 101 reasons, is it? I don't know how many reasons it is, but it's reasons enough to not put much value in the scale.
I'll admit, I still check my weight just about every day. I'm happier when I see the number go down than I am when the number goes up. But logically, I know it doesn't really matter.  Logically, I know that fitness goals, measurements, how clothes fit and photos are the best way track my progress.
And yet… this bitch still be crazy, because I would like to weigh less than 130 again.