Halloween season is upon us! Yay! We already have one costume event – the Headbanger's Ball – under our metal-studded belts, with possibly two more this week. Krispy Kreme's Talk Like a Pirate Day on Thursday, where you can get a free dozen donuts for dressing like a pirate. Hell, I'd wear my pirate garb for no reason whatsoever, let alone for free food! And the next day is a Zombie Walk at the Steamtown Mall in Scranton. Don't worry. There will be photos.
I'm planning Game of Throne costumes for Halloween itself. I'm going to attempt to be Daenarys, with Fritz as Ser Jorah. And sticking with the GoT theme, I'm making our Pekingese Beavis into Tyrion Lannister. He's already an imp and has the personality to match. Ok, on a good day, he's Tyrion. On a bad day, he's more Joffrey. Aren't I lucky?
The dog's costume is done. Not only did I make him a red brocade doublet with black satin trim, but I went one more step into Crazytown. I made him a "Paw of the King" pin. What? He's a dog. He can't be Hand of the King.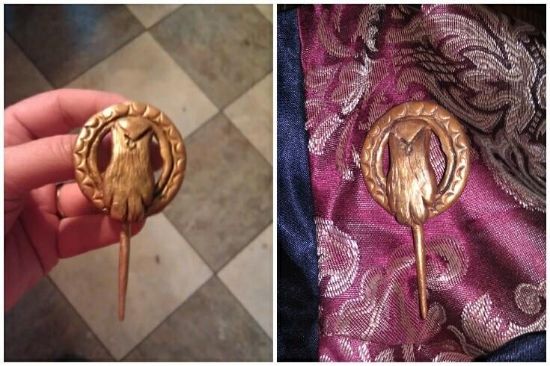 Sculpey clay, some acrylic paints, and a self-stick pin back, and I'm really happy with how it turned out. Since Fritz's reaction was "Where did you get this?!" not "When/how did you make this?!" I'm guessing he thinks it's pretty good, too.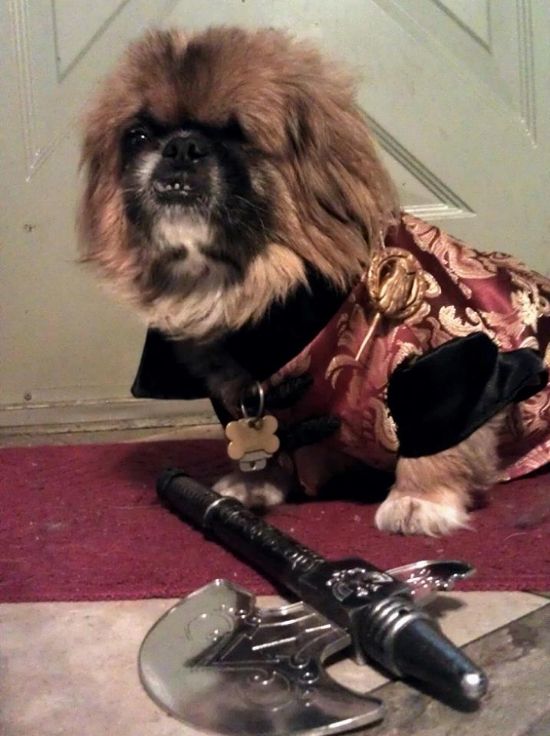 I tried to get him to hold the battleaxe in his mouth for the photo, but that wasn't happening. Maybe I'll have to whip up a Sansa or Shae costume for myself to accompany him if there's any pet costume contests. Why not? I'm already nuts!