I'm not saying these are the last times I'll post photos of these costumes, because I'd still like to get all dolled up and go to this sandy part of the hiking trails near my house and get some really awesome staged photos. If it ever stops raining and dries out a bit, because I'm pretty sure that sandy area is a mud bog at the moment. But the costumes, like Halloween, are done.
I made some changes since I posted my tutorial posts. (Dragons, Ser Jorah, Daenerys and the Dress Rehearsal.)
Since my green dragon broke getting into the car the first time I tried to wear him on my shoulder, I chopped him up and repositioned his tail, so he could perch on a bracer on my arm. Kind of like a falconeer would wear. The bracer was made from woven strips of ultra suede, painted to look like worn leather. Instead of actual laces, I cheated and glued elastic in a lacework pattern, so it could just slip off and on.
I wanted fire. I couldn't think of how to do it. I cut flames from cardboard, painted and added glitter. So much glitter! I figured they already looked very homemade and crafty, so why not just run with it? I used that for the first Halloween party.
In the category of completely pointless detail, I added top-stitching to my dress, to make it look more like the original. But if you're nose-to-waist with my costume, or touching it, you can't tell.
The chest piece of Jorah's armor needed to be bigger, so I remade that piece, and added a few more straps to hold everything in place. And i swapped out the leather cord lacing on his bracer for elastic cord, just to make things a little easier.
And that was for our first party at a bar last weekend. Sadly, very few people knew who we were. And as such, we didn't win any prizes. I didn't expect to. The fun of the costume is the creative process. Besides, the ones that win fall into one of three categories:
1) The woman in the skimpiest Sexy Noun costume. Yeah, we get it. You're hot. How about showing some imagination instead of ass?
2) The ones with the most friends, when they're popularity contests instead of judged contests.
3) The ones that are more parade float than costume… the giant productions. I always think, "How do you pee in that thing?"
So… yeah. I'll never win.
After that party, I had a few last minute tweaks. I liked the way Drogon, the black dragon, looked on his dowel, but it was a pain to carry it around. To make him hands-free, I sewed a tube of fabric, and stitched it inside the back of my dress to work as a holster. Bam. Flying dragon, hands free.
I still wanted to find a better way to have them breathe fire. I rooted through my Halloween decorations, looking for something illuminated with LED lights I could take apart… hopefully with long enough wires to hid the battery pack and switch somewhere. Most had stopped working. Poop. But I did have some battery operated tea lights that you'd twist to turn on instead of having a switch. And they were about the same size as the dragons' snouts. Hmmmm….
I used hot glue (squirted on glass, then glued onto the candle) to make the flames longer, then cut the dragons' noses (to spite their faces?), and glued, taped and paper mached them into place. A little paint later, and I had fire breathing dragons.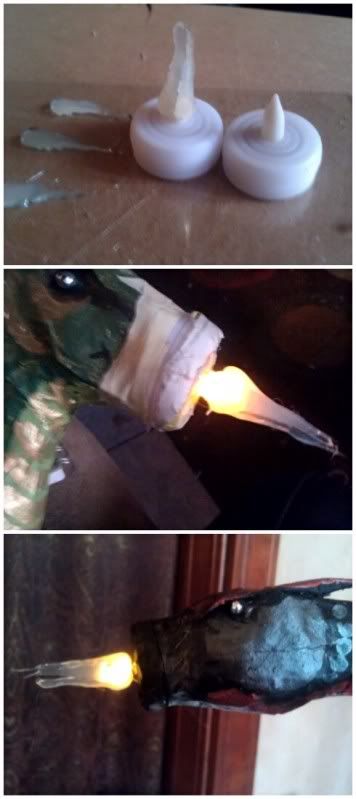 And they're done. Photos from last night, at a local casino…