Well, we HAD someplace to go, but it didn't quite turn out that way. Last night, we got all dressed up for the pre-Halloween party at a local bar, and didn't make it. It just wasn't in the stars.
For one, I was tired and cranky. Call me an old fuddy-dud, but I wish bands started playing earlier. I'm normally heading for sleepytime by 10pm, not raring to just start partying. So that was already working against me.
Secondly, none of our friends were going. And the party was billed as a pre-Halloween clown-themed party. So we might have been the only ones dressed in costumes. Not that it would be the first time I was only one dressed up, but it's a little awkward.
And… did I mention clown-themed!? I hate clowns. Poltergeist was the last movie to really scare me, and it wasn't the tv people, the bodies popping out of the ground, the man-eating tree or the closet/portal to another dimension that really bothered me.
Also, I broke a dragon getting into the car. Poor Rhaegal, the green dragon, lost a wing. And I couldn't detach him from my shoulder without taking my armor off, and I can't take it off without help to undo the bra-type hooks in the back (or as Fritz calls them, "fucking combination locks!"), especially the ones at the back of my neck. And it's nearly impossible to see them in the dark.
Lastly, some crazy-ass mo-fo swerved into our lane and almost hit us head on. Seven hells! I can take a sign. We turned around and came home. There will be more parties over the next twelve days.
And I'm glad we did get all dressed up, because it was the first time seeing our costumes in their entirety, to work out any issues. And there's issues that need work.
1) Maybe I'd be better off having Fritz carry my phone. Tying a little purse around my waist is a good idea for my ID and some cash, but my phone is colossal. Or at least swivel it around the back. But I don't want an unsightly rectangular bulge on my bum, either.
2) The green dragon needs rethinking. Either keep him attached to the shoulder of the armor, but don't put it on until we get there, or find another way to wear/carry him, so I can sit down in the car and put in a seatbelt.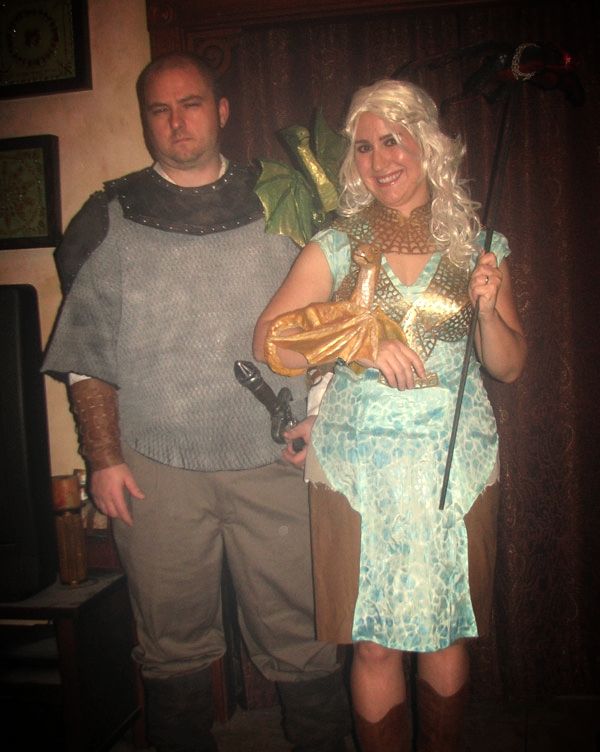 3) Fritz is significantly larger than me. The chest piece armor that seemed the right size holding it up to my short torso is way too small on his taller body. Guess we'll need to eat more pizza this week to get more cardboard to make more armor. Darn!
4) Other minor tweaks, like cutting the sleeves of the "chainmail" a little shorter, maybe pinning some elastic to the bottom of his pants to keep them tucked into the boots better. Like stirrup pants from the 80s.
5) Don't put on the sword belt until after we get there. You can ride a horse while wearing a sword, but not drive a car.
6) I now know why everyone had squires and handmaidens in the books. It's damn near impossible to put on armor by yourself.
7) Never go blonde.