To some, Halloween is a day. Perhaps a few days, if the holiday itself happens to be on a weekday, and the parties are the weekend before. Maybe the die-hards consider all of October to be Halloween season. For me, it stretches from the first time there's that crisp autumn smell in the air until Thanksgiving.
Ok, truthfully, it's always something that's on the back of my mind. I start thinking about next year's costumes before I even wear this year's. I'm excited as hell that Diana Gabaldon's Outlander is going to be a tv show this year, and even more so that the actress who'll play Claire has dark brown hair. YES! No wigs next year! Not for me, anyway. Fritz might need some help in the hair department to be Jamie. Shh… don't tell him yet. He hates wigs as much as I do. But thankfully, he loves wearing a kilt. And he subscribes to the "Happy Wife, Happy Life" philosophy.
Anyway, back to this year. Our final costume event of the season was Wednesday, at another Headbanger's Ball party. You might remember we dressed up in September for the first one, and were bestowed the titles of Most Metal Warrior and Most Metal Wench. Well, I can't repeat a costume, so we went in the direction of 90's Psychedelic Metal and channeled Rob Zombie and Sean Yseult of White Zombie.
I got a thrift store jean jacket for Fritz, and went to town painting it to resemble the jacket Rob wore in the "Thunder Kiss '65" video. I printed out some of the album art and logos onto cardstock, and cut stencils for the designs to paint on the back, sleeves and front lapels, and zebra print for the front below the pockets. It's kind of trippy using Martha Stewart skillz on something so dark and heavy. Then I used some faux leather and cut fringe for the back of the sleeves. I sewed silver beads around the collar and on the back, because that's a cheap and relatively easy way to give the appearance of metal studs. Topped it all off with a Jack Sparrowish pirate wig with dreadlocks, a leopard print scarf, and his Russ Meyers tshirt.
I was originally going to dress like the go-go girl in the video… the one in the cowboy hat and little booty shorts. Then the cold snap hit. No f'n way was I being that bare when it's 20 degrees and snowing.
Pretty much the day of the party, I was still pondering what to wear, when I remembered a patent leather faux snakeskin jacket I had in the garage. I painted that with more band art, added some funky Lichtenstein-esque leggings that I just HAD to buy when I saw them for $6 at Ross, a zebra tank, the daisy dukes I wore to the last Headbanger's Ball, cowboy boots from high school, a crazy-loud yellow-blond wig, and a crushed velvet hat from the early 90s.
The results: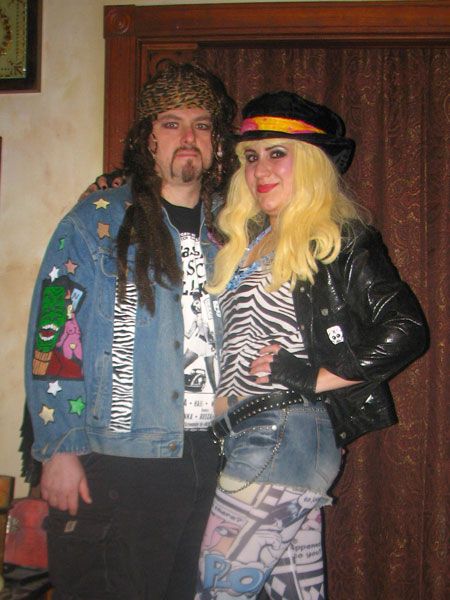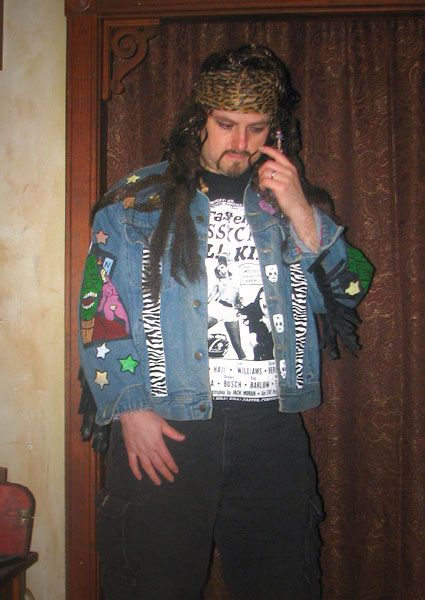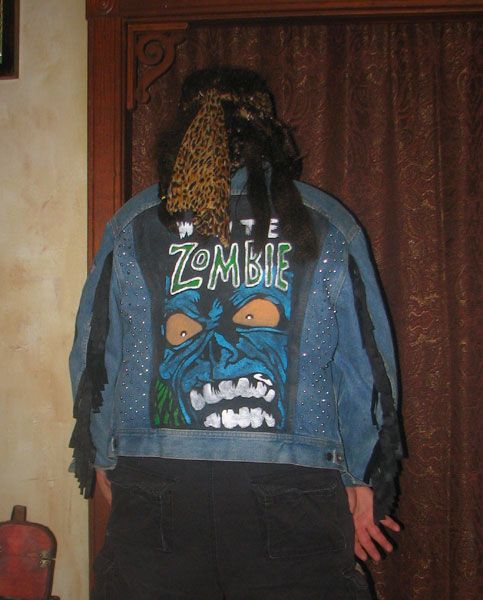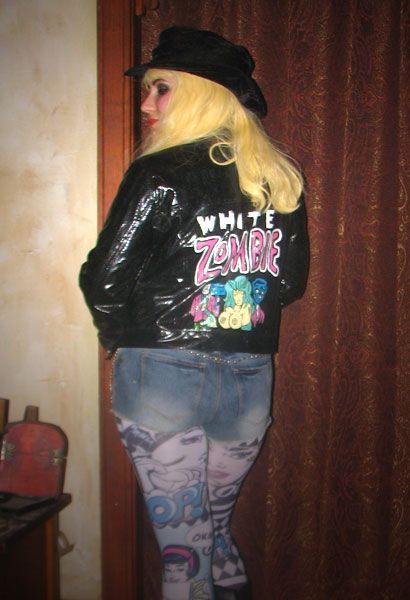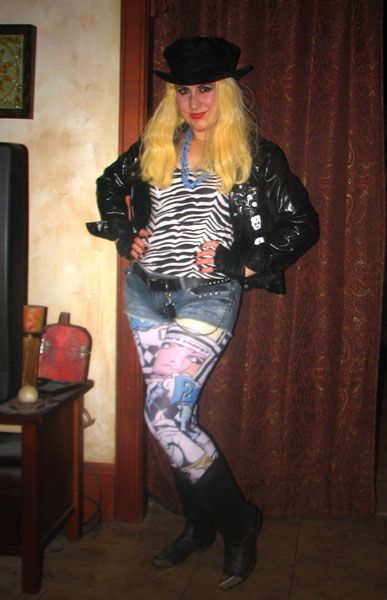 The results of the costume contest… Fritz is still the Most Metal Warrior. I was sadly out-wenched, but since the chick had boobs out to THERE and was dressed as a dominatrix, I do concede that she is more metal than me. After all, I'm just a nerd who does Martha Stewarty crafts and likes to play dress-up. 😉
The other result… from being hunched over painting the jackets and slouched on the couch beading the metal studs (while watching Rudolph, because I'm THAT metal), I wrenched my back or neck or shoulder or something and have been in pain for three days now. Do you understand how hard it is to listen to a band do kickass covers of Megadeth, Metallica, Motorhead, Guns n Roses and Skid Row without being able to bang your head?! Getting old sucks.
It's hard to swallow, but I'm no longer the Youth Gone Wild. I'm the middle aged, turned mild.