Continuing my quest to find my running mojo…
June 1st. Since my last several runs have all sucked, I went back to W5D1, but shortened the walk intervals to 2 minutes. (Run 5 walk 2.) I'm still just not feeling it, and my finger was hovering over the "stop" button at about .75 miles. But I said to myself, "No. You're going to do this. Walk when you need to, ignore the intervals if you have to. But finish this run. You'll feel better if you do."
So I did finish it. And I did feel better.  Certainly not my best run, but better than quitting.
June 3rd. Ok. That's more like it! This run was soooo much better. I didn't follow any set intervals, and ran my first mile without a walk break. After that, it was willy nilly intervals. That averages ~20 seconds faster per mile than my best run this year at this distance.
In April, I was happy to be under 40 minutes for my 5k and now, about two months later, I'm under 35 minutes. I'll be very happy to get under 30 again, but for now, my main goal is to have my average pace under 11 minutes per mile.

I even had enough energy left at the end of this run that I decided to do an extra .2 miles around the park! And I'm surprised my legs could still go that fast, especially on uneven surfaces like grass and dirt road with tree roots and mud puddles to avoid. I originally wanted to do a full lap, which would be .31 miles (convenient when I want a boring, but soft 5k – ten laps around) but there were doggies off leash and I learned a long time ago not to trust, "Don't worry, honey, he won't bite!" Not taking my chances.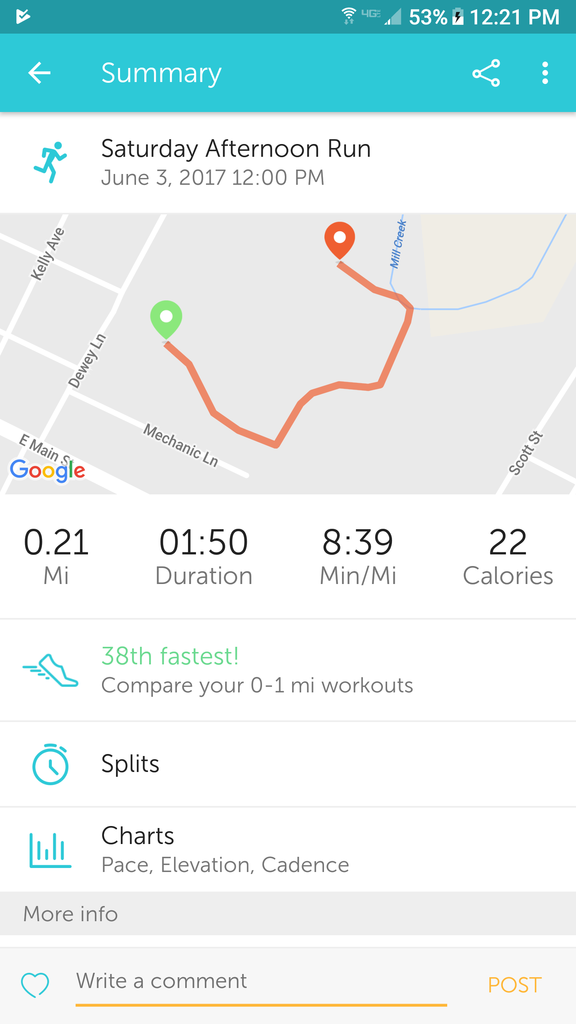 June 5th. Well, I was expecting this to be another good run, but… it wasn't what I'd expected. Very humid, warmer than I thought it was going to be (in the low 70s), my shorts were riding up between my thighs and I wore a cotton tee instead of moisture wicking or a tank top,  I did squats & deadlifts the day before for the first time in about two weeks, didn't sleep well  because I was worried about my car possibly not passing inspection (she did, yay!), and maybe lemon meringue pie for breakfast isn't as good of a fuel source as I thought it was. I was whupped. Then I started getting stomach cramps around 2 miles and hit stop. Side note: I bought a box of Balance Bars thinking they were protein bars. They were fiber bars, and OMG, the farting!!!
I was *thisclose* to calling my husband to pick me up, but instead, I walked around the block for a bit, thinking, "There's a portapotty in the park across the street if I need it," until I cooled off and my stomach settled. Thankfully, without the help of the portapotty, because… yuck. I was not sure if I just wanted to walk home or finish off the run, but I thought, "Eh, what the hell. Might as well go for it!" Watch out, Nike, this might be the next big slogan! I picked up where I left off and finished off my planned run.
I'm glad I finished the run and glad I gave myself a break when I needed it and really glad that last mile was faster than my first mile and WAY faster than my 2nd. My smile at the end says it all.

Tomorrow's Global Running Day, and two days later is my 45th birthday.  I'm not a religious person, but I might say a little word to Hermes to give me a good run on at least one of those days.