There is no after. That's what I've learned. The only "after" will be once I'm dead. Until then, it's all just during.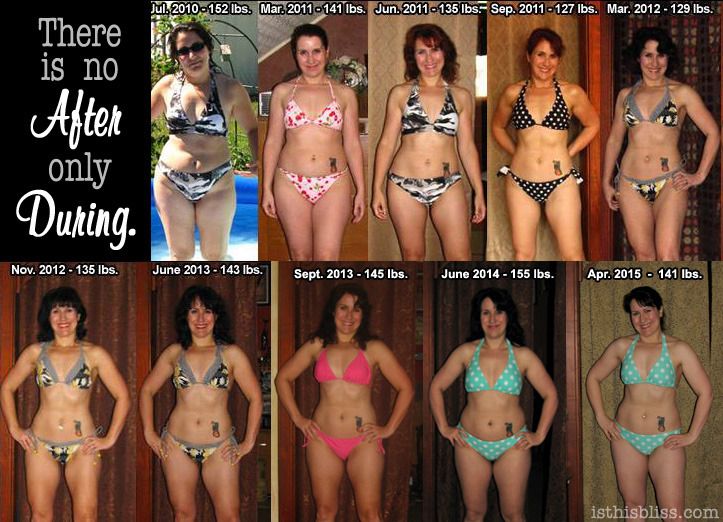 This photo shows the last five years of my life at different weights and sizes. There's times I've had more motivation. Times I had less. Times I felt fantastic. Times I hurt. Times I weighed less. Times I weighed more. Times I didn't give a flying fuck. Times I cared too much.
In other words: Life happened.
Honestly, I loved how I looked and felt in November 2012, and I'm working towards looking and feeling that way again. But sometimes, it's just not a priority. And that's okay. If I were a personal trainer or a fitness model, then it would be a higher priority. But I'm not. And I'm perfectly content where I am. My life does not improve in any major way if my body fat percentage is a little lower, if I can run a little faster, if I can lift a little heavier, if I wear a smaller clothing style. It really just doesn't matter if I'm fairly fit or super fit.
Some in the fitness industry would like to call someone like me a failure, because I'm not constantly improving or even trying to. Say I'm just making excuses or I'm not focused or determined enough. Screw 'em. I don't say they're failures if they can't, won't or don't do other things I do. I've never said, "I re-tiled my kitchen floor, repaired my broken dryer, dishwasher and stove, and installed drywall by myself… what's YOUR excuse?" How ridiculous would that be?! I love to read, I've tamed feral cats and literally taught an old dog new tricks, I'm a pretty damn good artist and an obsessive bargain hunter… if someone else doesn't do those things, does that make them failures, unfocused or not determined? No. That means they have other interests. And so do I. And so do you.