My first race of 2016 was this weekend!
It was hilly. And windy. Two things I hate the most when running! I thought I trained on enough hills, but alas… no. But even though I was really hoping for under 30 minutes, I was expecting closer to 32-33, so finishing in 30:30 was fantastic! And I took second place in my age group.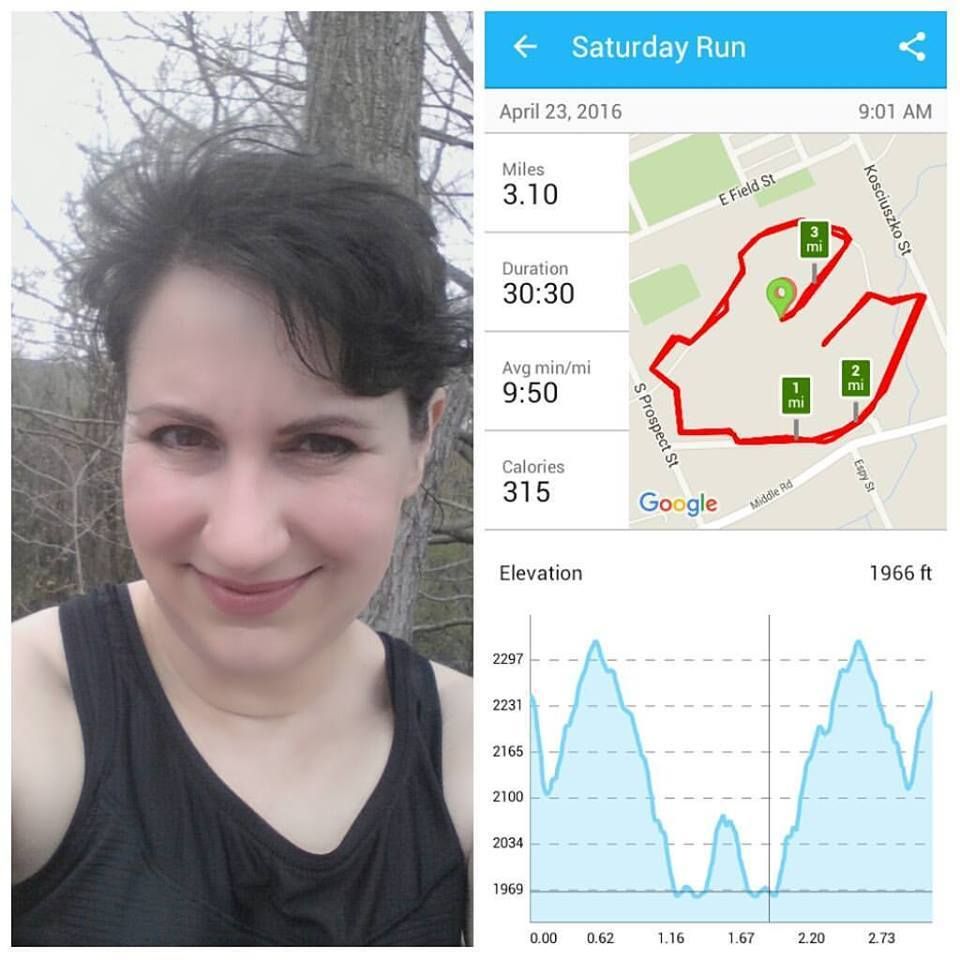 Did I tell y'all about my stupidphone? I don't remember. Anyway… on January 1st, all happy that I was running my first run of the new year, I dropped my phone and busted it. We weren't eligible for an upgrade until July, it costs way too much to get a new one, so I reactivated my old phone. The one I got in 2012, but was a 2011 model. And that thing was a piece of shit. It would randomly crash, or the battery life would go from 70% to 5% in five minutes, and it rarely lasted through a run. Sometimes it would throw glitches on Runkeeper where it would show me running at ridiculous paces. Like this…
I can assure you, I did not break the speed of sound. I would have remembered that.
It crashed three minutes before the race started on Saturday.  It barely restarted in time for the race and I ran with it plugged into a backup battery bank. Then, because it's an ornery little fucker, I stopped it after the race, took off my ear buds, shoved it all in my running belt, and accidentally restarted Runkeeper. So it was tracking my movement while I puttered around waiting for the last of the runners to finish, while eating a jelly donut (yay for post race donuts!), through the awards ceremony, and the entire drive home. All in all, it kept track for an hour and a half, and didn't crash. But let me try to go for a two mile run, and it'd shit the bed a quarter mile from home.
So, anyway… we checked to see just how much more it would cost now to replace my phone, rather than waiting for the contract to be up. And… it wouldn't! The only difference if I upgraded now vs. in July is that I have to send them my old phone back, instead of keeping it as a backup. You want this glorified paperweight back? Fine! Take it!
I'm now the happy owner of a brand new Samsung Galaxy S7, with an Otterbox and extended warranty. I'm like a kid on Christmas morning. Being both broke and thrifty, I always got last year's model on phones, whatever was cheapest or free. And now I'm looking forward to going for a run without having to carry a backup battery and remembering every step and turn I make in case I have to manually plot my route. See ya later, I'm going running!