Skinny? I've been skinny. I have no desire to be skinny again. Here's some photos of me in 1998 and today. I love vintage clothes, and was going to sell the swimsuit on eBay until I saw how it looked on me. LOVE!!! And the 1940's dress was purchased for a 40's theme party, and once again, I didn't want to part with it. Back then, I was hovering around 110-115 pounds at 5'5. I didn't think I was skinny then. I wasn't trying to be skinny. It's just how I was. I'm currently hovering around 135 pounds, and think I look way better now.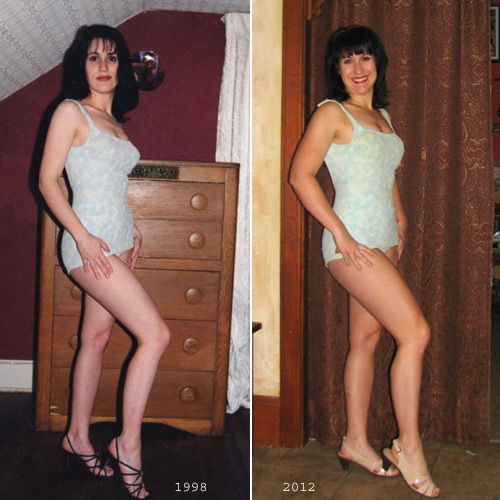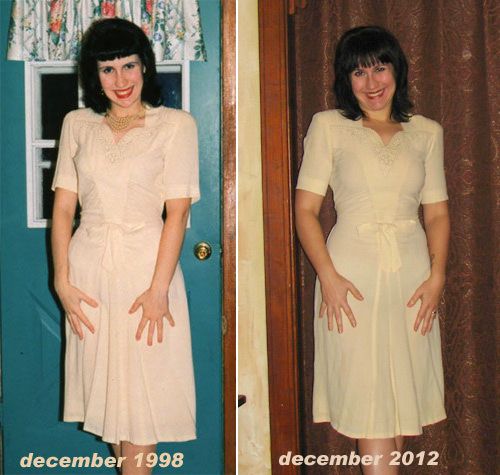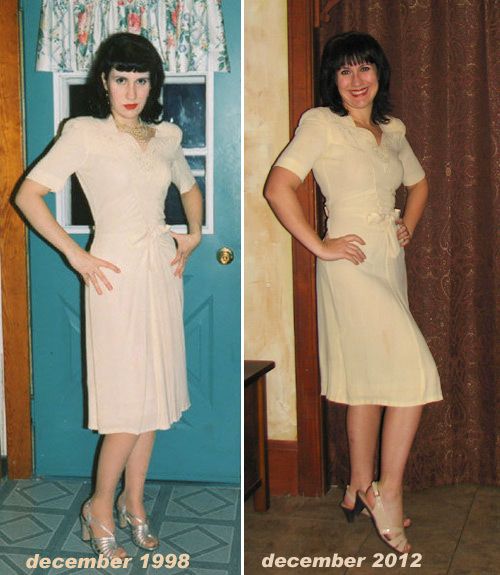 I don't mean this to be body shaming for anyone naturally thin. But I wasn't just naturally thin. I was also a wimp. I didn't exercise. I didn't eat right. I took dance classes, but a few minutes of a Samba would leave my calves crying for mercy. I couldn't run… I thought I was going to die just walking a 3 mile loop in about an hour around my neighborhood. Now, that same loop is run in well under a half hour,  and is one of my "easy" runs.
What's really frightening to me is that in early 1999, I got even thinner, dipping down to about 102 pounds thanks to depression after a bad breakup. I look at my noodly appendages in these the '98 pics, I can't imagine how frail I must have looked even skinnier. (Then I snapped out of it, got over my stupid ex with the help of a brief fling with a super hot security guard, and got a nice, cushy desk job, and got up to a healthy weight again.)
You know what else I find frightening? My bangs in the 40's dress photos. I wanted Bettie Paige bangs. I got Mr. Spock. These photos were taken over a MONTH after the haircut from hell, and they're STILL too short!
But I digress. The thing is, since I'm wearing the same vintage clothes in both sets of photos, my size really isn't drastically different, despite weighing 20-25 pounds more.  The bigger difference is just having strong muscle on my arms and legs. Losing a lot of weight wouldn't make me significantly smaller. It just makes me weak, frail and bony.