Last summer, after faithfully logging my calories (most of the time) and exercising regularly (most of the time) for about six months, I was pretty damn happy with my results. I looked pretty good, I felt pretty good, and while I wasn't as lean as I'd been a few years back, I knew that being that lean took a lot of work and dedication, and that the benefits of being leaner weren't really all that great. Wearing a size smaller didn't make me feel any better, physically or emotionally. I still saw just as many flaws and problem areas when I looked in the mirror. I still had to scoop cat shit out of the cat box. I still had to pay my bills every month. The sky wasn't any bluer and the clouds were no fluffier. The only difference was that the tag inside my jeans – that no one saw but me – was a smaller number.
So, rather than continue to push towards a goal that really didn't matter, I gave up. I don't mean that I got so burnt out by logging and exercising that I said, "Fuck it," became a couch potato, and ate a bag of Butterfingers a day. I just eased back a bit. I stopped logging my food. After doing it off and on for five years, I should have a pretty decent idea of what to eat. I stopped weighing and measuring myself. I ran a little less, especially after I bunged up my Achilles and had to rest for a few weeks. But the biggest thing I gave up was pressure on myself.
So, about 8-9 months later, what's the result of giving up? This.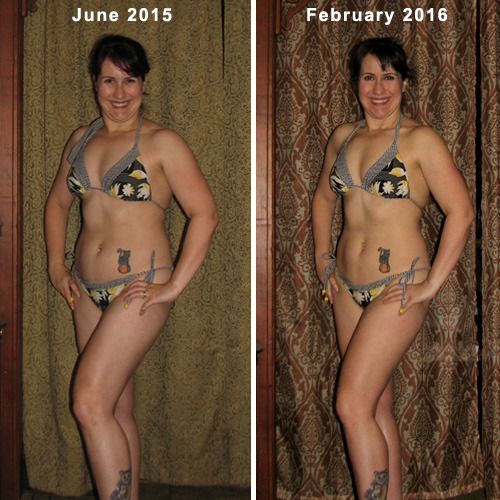 I'm closer to my "goal body" now than I was when I was trying so hard to get there.
I'm still not even sure I want to be as lean as the 2012 pic again. But I'm taking an attitude of "if it happens, it happens." I'm not going to push myself too hard, I'm not going to weigh and log every bite of food that goes in my mouth, I'm not going to weigh and measure myself. I'm not going to give up chocolate and cookies and other goodies. I'm just going to continue to eat mostly whole foods and move my body in ways that feel good.