December 11th is a milestone date for me. It was on this date a year ago that I decided to get fit enough to do the Warrior Dash six months later on June 11th. One year into my "new lifestyle," I've lost 35 pounds, about six inches off my waist, about six off my hips, and four inches on each thigh. I've gained the ability to run at least seven miles straight, and a ton of confidence.
About once a month, I like to check my progress with photos. I have some kind of mental block where I don't always see changes in the mirror, and I'm on maintenance now, so I don't see changes on the scale. I'm able to look at myself more objectively in photos.
I lost about 10 pounds since the Warrior Dash, but may have put a few back on since going on maintenance. I fluctuate between 125-130# normally, but since I had pizza and McDonald's on Thursday (busy day = bad food choices) and my sodium was insanely high, I weighed in at 132.5# this morning. The morning of the Warrior Dash, I was 135#. This goes to show that what the scale says is pretty meaningless. Granted, I wasn't posing while I was trying desperately to not lose a contact lens getting hosed post-dash, but my belly region is certainly improved!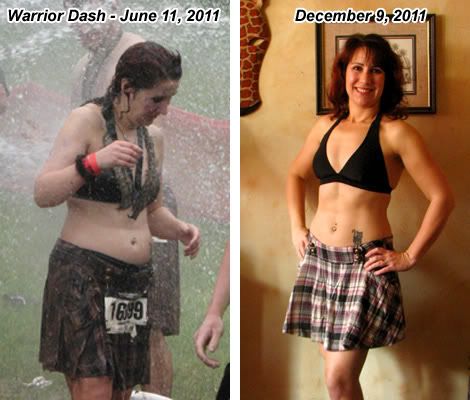 But what I find MOST amazing is that I'm happier with my body now, at 39 years old, than I was 12 years ago at 27. I was thinner then, but being FIT is sooooooo much better than being skinny. (And the really sad thing? This is after gaining weight… I was around 125-ish in 1999, but a year earlier I was only about 105#!) The 27 year old me couldn't run 7 miles. She didn't lift weights. She looked sickly. And her butt was kinda flabby. Who the hell likes their butt better at almost 40 than they did in their mid 20s?! (Oh, yeah… people who work out!)