Like a virus without a cure, the obsession with zombies grows more and more each year. With tv shows, obstacle courses, walks and pub crawls, zombies aren't just regulated to Halloween itself anymore. Our city's Fourth Annual Zombie Walk was this weekend, which is a free event and a fundraiser for Toys for Tots.
And what I love best about it is that virtually everyone's costumes are handmade and creative.
That's what's so great about being a zombie… anyone can do it. You're just an undead human, so any clothes will do. Rip them up and roll around in the dirt, splatter them with paint or fake blood.
Depending on how long it's been since you've turned, your makeup can be as basic as some blood. If you've been dead longer, you'll want to go grey or green and add some black to your eye sockets, temples and under your cheekbones. Everyday ordinary black and grey eyeshadow can go a long way. Add a little black eyeliner on your lips.
If you want more wounds and decay, liquid latex is soooo much fun. It's easy to use, and doesn't really require any skill. Just paint it on your face, let it dry, and peel it back to have wounds. Apply red inside, and color the outside with whatever makeup you're using on your face. For thicker flaps of skin, paint the latex on your face, then stick some toilet paper over it, then another layer of latex, and let dry. Repeat until you get the desired thickness, then rip it.
For this year's walk, I wanted to have my throat ripped out.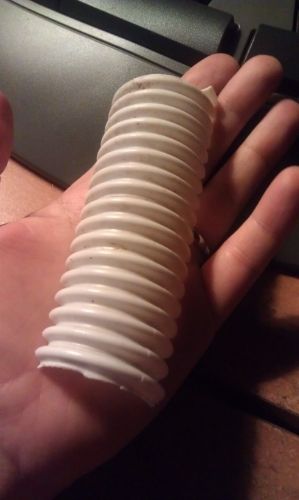 I started with a section of hose from a swimming pool pump, cut in half. At first, I thought I'd paint and attach the hose itself to my throat, but (and these are the kind of thoughts that run through my brain when I can't sleep), I realized I could use it as a mold for my latex, and have a lightweight flexible larynx instead.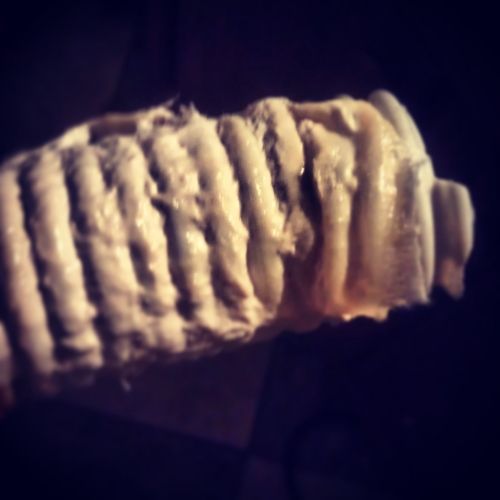 I applied a layer of latex over the hose with a paint brush, then stuck some TP over it, and brushed/dabbed more latex over that. Then I waited for it to dry, then added a few more layers. You'll want to brush over the wet tissue gently, because it will tear. For rotted flesh, that just adds to the texture, but I wanted the throat a little smoother.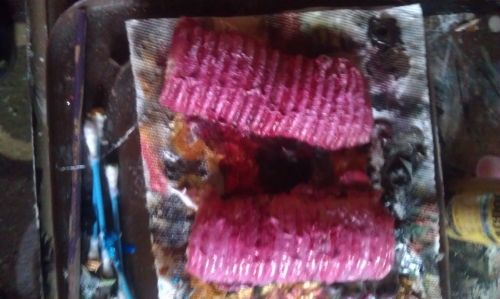 Once it's fully dried, gently peel the latex off the hose, and paint it with red and white acrylic paints. Next, I applied latex and tissues to my face and neck as described above for flesh wounds, leaving an empty space in the middle of my throat for the larynx. Once my wounds were dry, I "glued" the prosthetic piece in place with more latex. I could have used spirit gum, but I already had the latex poured onto a paper plate, so… waste not, want not.
For the makeup, I used a blend of flesh tone, green and black. I started to use red makeup inside my wounds, but it wasn't red enough. I then switched to red acrylic craft paint. It worked great, was the perfect color, and actually washed off better than the red makeup…. I didn't end up with blotchy red stains on my skin like I did last year. And it dripped and oozed beautifully. As it dried, it flaked a little, just like dried blood really would.
Sadly, I budgeted my time poorly, and was running late to turn Fritz into a zombie as well, so he was a survivor. Since I was wearing my Resident Evil Alice dress (with longer shorts, tights and a leather jacket, since it was cold and windy), we bloodied up his Umbrella Corp shirt from last year so he could be a survivor. I put on rubber gloves and smeared handfuls of red paint on his shirt, leaving handprints as if he'd been mauled, and carried my toy assault rifle.
We had a great time, and got a couple of great photos…